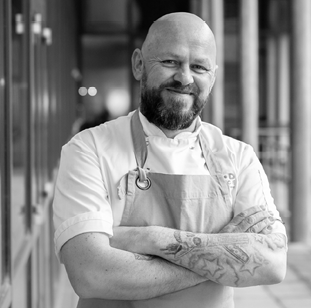 Conor Spacey
Culinary Director
Conor started his career in the industry 27 years ago as a porter in the kitchen of a hotel in Reading. From there he has worked his way through the kitchens of many great restaurants and hotels right across the UK & Ireland to where he is today, so you could say that the kitchen is like home.
He joined FoodSpace in February 2016 and has been fundamental in building our ethos around putting fresh, seasonal and responsibly sourced ingredients at the centre of every plate we serve. Conor hand picks every single one of our chefs and encourages each of them to marry great ingredients with their own personal inspiration and food experiences to create their menus. Refreshing right?
Ultimate satisfaction for him is tracking down great produce and getting it into our FoodSpace kitchens. So much so that he spends any spare time in front of YouTube researching new suppliers, chefs, trends and cooking techniques. Not just across UK & Ireland, but across the globe.
Conor's love of food translates into his personal life too. Whether it's simply baking fresh bread or foraging trips with his kids on the weekend, trying out new restaurants or exploring local food markets – Conor literally eats, drinks and sleeps everything food!