Grow
LOYAL TO LOCAL
We believe in supporting the communities local to our locations by promoting real food and backing the farmers, growers and producers who are doing the right thing. When we talk about local sourcing of fresh produce, our definition is 50-miles for our kitchens.
We source locally because we know that provenance and local produce is not only important to us but also to our clients and customers. So, before we even win your business we search for the best farmers, growers and producers within 50 miles of your location (give or take a mile or two).
We also love to talk to the chefs in the best local restaurants. Who rears their beef? Who\'s their baker? We do this because working closely with our partners not only means that we get the most delicious ingredients available to use on our menus, it also helps to support the community too.
OUR 50 MILE MENU…
We highlight dishes on our menus in our workplace and university restaurants, cafés, delis and hospitality with a 50‑mile Menu stamp when they are created with fresh produce sourced within 50 miles of your location.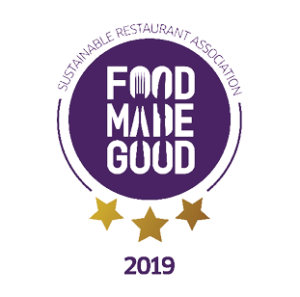 Our Partnership with SRA