Indulge in the cozy flavours of the season with our delectable Roasted Pumpkin Pasta recipe! As autumn paints the world in warm hues, it's the perfect time to embrace the rich and earthy taste of pumpkin, a true fall favourite. But let's not forget that while we savour the sweet flesh of this seasonal gourd, we should also make a conscious effort to minimise waste and put those nutritious pumpkin seeds to good use. In this recipe, we'll guide you through a delightful culinary journey that not only showcases the enchanting essence of pumpkin but also offers a sustainable twist, ensuring that every part of this seasonal gem is put to delicious use. Get ready to experience the essence of fall on your plate, one savoury bite at a time!
Roasted Pumkin Pasta
Ingredients:
4 tbsp Rapeseed oil
1 large onion, finely diced
3 garlic cloves, crushed
500g pumpkin, peeled and cut into roughly 3cm cubes
50-100ml cream
1 tbsp smoked paprika
1 tbsp cayenne pepper
1 tbsp fresh thyme, chopped
2 tbsp tomato purée
2 tbsp mascarpone
365g rigatoni pasta
35g grated parmesan or vegetarian alternative, plus extra to serve
salt and pepper to season
Method:
Preheat the oven to 180°C..
In a bowl, combine the pumpkin, garlic, and oil. Season with salt and pepper. Arrange the pumpkin on a lined baking tray. Roast for 20-25 minutes or until the pumpkin is tender.
While the pumpkin is roasting, heat the remaining rapeseed oil in a pan over medium-high heat. Once hot, add the finely chopped onion, paprika, and cayenne pepper. Sauté the onions and spices until soft, then set aside.
Bring a pot of salted water to a boil. Add the pasta and cook for approximately 10-12 minutes or until it's al dente. Drain the pasta, reserving a cupful of the cooking water. Drizzle a bit of oil over the pasta to prevent sticking and toss it lightly in a bowl. Set it aside.
In a blender, combine the roasted pumpkin, garlic, sautéed onions, and the remaining ingredients (except for the pasta). Blend until smooth.
In a large pan over low-medium heat, pour the blended sauce and heat it slowly. Add the reserved pasta water to thin the sauce if it's too thick. Stir in the Parmesan cheese and season with salt and pepper. Add the cooked pasta and toss until it's evenly coated with the sauce.
Serve and enjoy!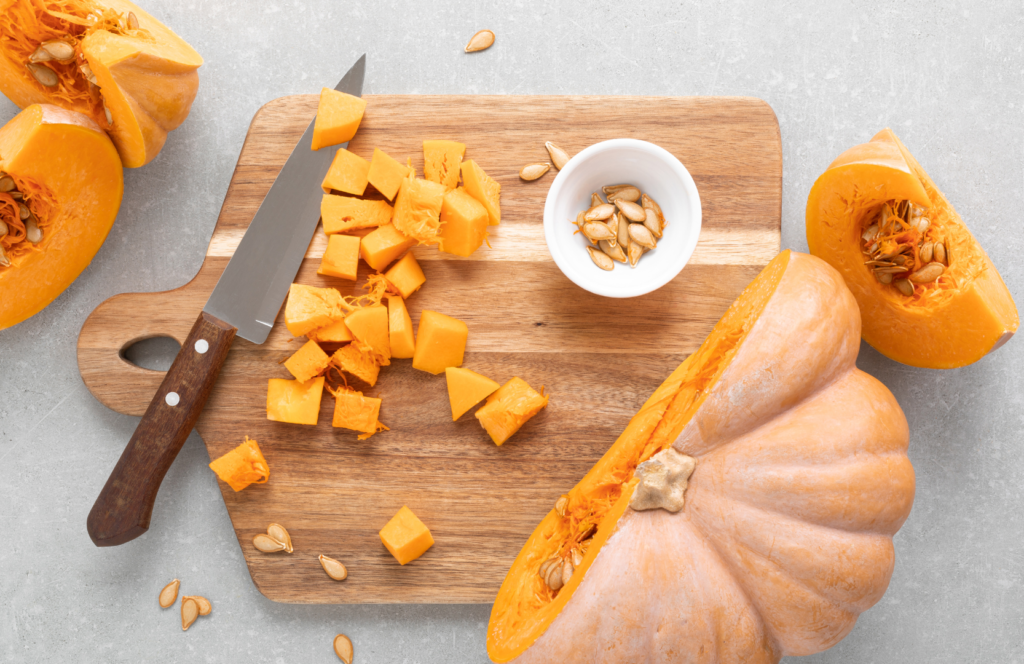 Note: Keep your Pumpkin Seeds
Scoop the seeds from your pumpkin and try and remove most of the stringy parts. Then place in a strainer and rinse thoroughly to remove any of the leftover goop from the pumpkin. Arrange cleaned pumpkin seeds on a towel and dry thoroughly. This will help the pumpkin seeds crisp up in the oven. Arrange dried pumpkin seeds on baking sheet and drizzle with oil and season. Bake for 20-25 minutes or until crispy.Add to your pasta or any dish.