MUSSELS
February is here and as we say goodbye to winter and hello to Spring, we start to see brighter evenings, flowers and trees starting to grow and people enjoying the better weather.
But it's all a bit different in the vegetable garden, things are going a bit slower. We are in what is known as the Hunger Gap, there's not much new growth and we are still relying on winter crops, pickling and fermenting. It will be March before anything new is harvest ready.
So for this month we are moving away from the fields and into the ocean.
Ireland is a fantastic island with great seafood. At this time of year white fish is great and plentiful and also one of my favourites Mussels.
Mussels are rich in proteins also an excellent source of iron and are beneficial for growth and immunity.
Mussels are particularly rich in vitamin B2 and B12. The Vitamin B12 plays a key role in the normal functioning of the brain and nervous system. Vitamin B2, also known as riboflavin, is an easily absorbed micronutrient which is required for a variety of cellular processed and plays a key role in energy metabolism. Mussels also have excellent levels of Sodium, Potassium, Iron and iodine.
There are easy tips when buying and cooking mussels and in most homes people tend to be a bit standoff and feel that they are difficult to cook and usually avoid them and leave to the chefs in their favourite café to cook.
Simple guides to buying them – firstly buying from a fresh fishmonger is always best if you are lucky enough to have one near you. To ensure they are fresh you need to check that they are all closed, if you see an open one, give it a gentle tap and if it doesn't close then it is dead and needs to be discarded.
Also if buying from a fresh fish monger the "beards" may already have been removed, if not then simply grab the beard from the side of the shell and quick tug to remove it.
A quick wash under cold fresh water and now you're ready to cook.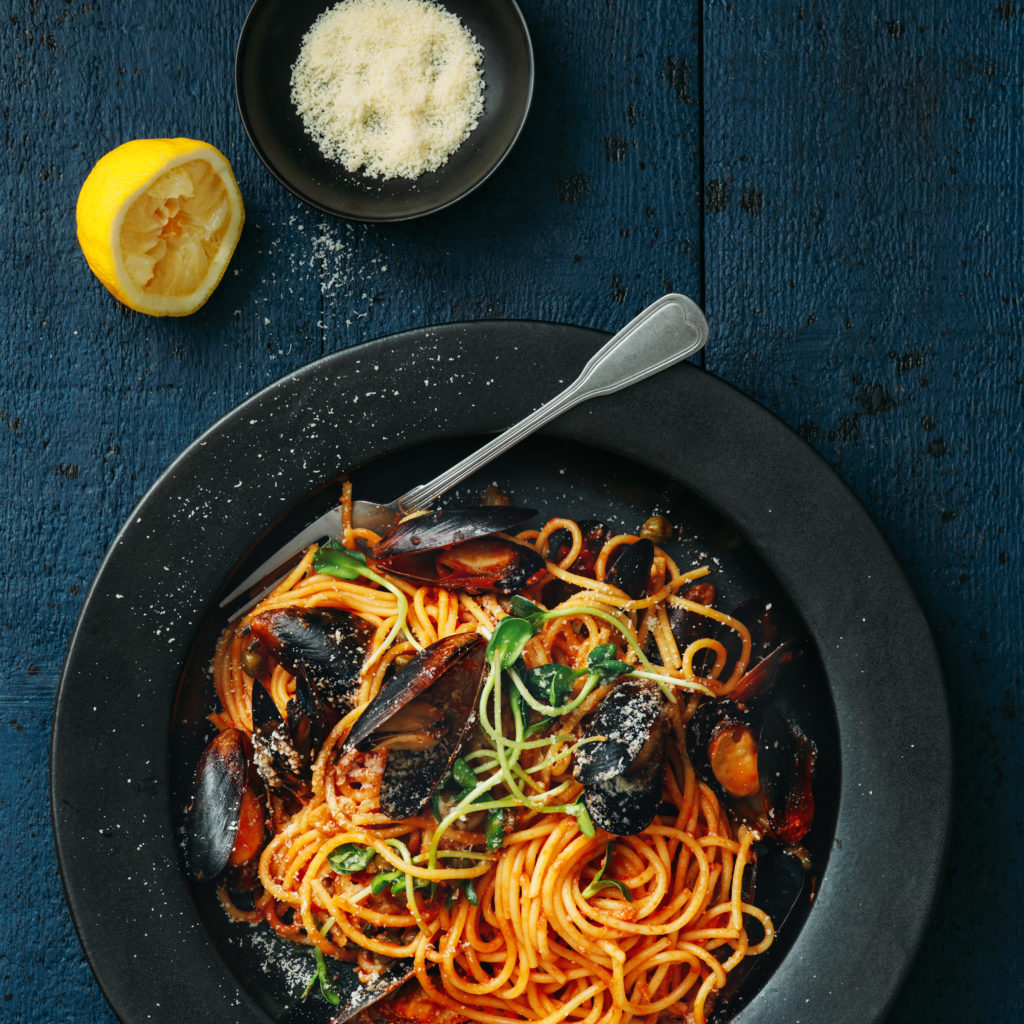 Ingredients
1 kg mussels
1 tablesp Irish rapeseed oil
½ an onion, peeled and finely diced
2 Irish garlic cloves, peeled and crushed
400g tin of chopped tomatoes
2 chopped fresh chilli's (optional)
300g linguine
2 tablesp. chopped flat leaf parsley
Irish SeaSalt and freshly ground black pepper
Method
Place the mussels in a large bowl of cold water.  Use a small knife to remove any barnacles and pull away the beard. Any mussels that are damaged, open or won't close after a light tap need to be thrown away
Heat the rapeseed oil in a large saucepan on a medium heat.  Add the onion, garlic, fresh chilli and cook for 2-3 minutes. They should soften but not brown. Then add the tomatoes and simmer for ten minutes. Taste and season with black pepper and sea salt. 
 Cook the pasta in a pot of boiling water. While the pasta is cooking add the prepared mussels to the tomato sauce. 
 Allow the mussels to cook for 3-4 minutes, shaking the pan from time to time to ensure they cook evenly and all are opened. If there are still some closed, then pick them out and throw away
 When the pasta is cooked, drain, saving a couple of tablespoons of the cooking liquid.  Return the pasta to the saucepan it was cooked in along with the reserved cooking liquid.  Pour the mussels and tomato sauce on top of the pasta and mix well.
 Return the saucepan to a low heat for a couple of minutes to heat through. sprinkle with the chopped parsley. Serve with lovely toasted sourdough bread…..
Enjoy!!