EAT IN SEASON JANUARY – Mayan Gold Potatoes
"Let's talk potatoes, but not as you know them"
Potatoes are a stable in Ireland, part of most dishes that we consume every day and we have long history dating back to the famine on how they have shaped our country.
However, did you know that the potato is not Irish and originates from Peru?
 We use many varieties, most common would probably be the rooster, but there are also great heritage varieties grown in Ireland by the fantastic Ballymakenny farm in Drogheda. Maria Flynn is an extremely passionate farmer that grows such varieties as Red Emmalie Potato, Pink Fir Apple Potato, Yukon Gold, Mayan Rose and Mayan Gold, as well as long stem broccoli, purple sprouting broccoli and one of my all-time favorite's long stem cauliflower.
Maria grows directly for chefs across the country and many menus from high-end restaurants to bistros and cafes look forward to her seasons and plan ahead great dishes where her potatoes are the star of the show.
Farming in Ireland is extremely hard work no matter what crop is grown. The decline in growers is alarming. Ten years ago, there was over 600 growers in Ireland; today there are less than 150. If this trend continues, we could end up in a situation where we do not grow vegetables anymore and are reliant on imports. Can you imagine our island without farmers?
It is more important than ever to ensure that we support our farms and the future of our food.
For January, we want to talk about one of Maria's newest varieties Mayan Gold.
Throughout all our kitchens, our chefs will be creating dishes to highlight this great variety and Maria's hard work. This is all weather permitting.
We sometimes do not realise how much farming in Ireland is effected by climate change. 2019 in particular has been one of the wettest. Crops have remained in the ground because of farmers not able to access them and the seasons are out of sync, with crops appearing much earlier than they should. Under the correct seasons, we should be good to go for this great potato, but that can all change.
We will follow up with as the month unfolds and keep you updated here.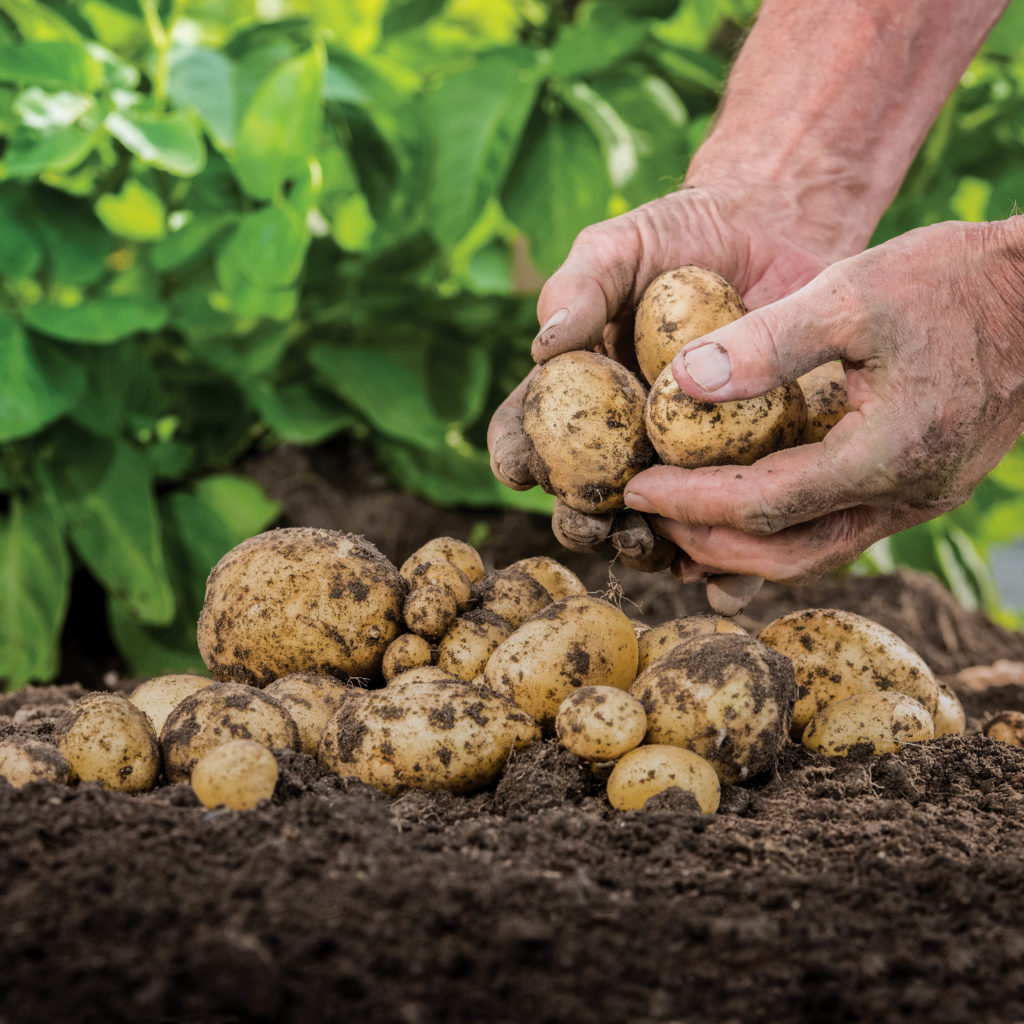 Recipe:
Mayan Gold Hash, Kale & Sausage:
Ingredients
250g Mayan Gold potatoes, cut into chunks
1 tbsp Irish Rapeseed Oil
1 small Irish onion, sliced
4 pork sausages (about 250g), sliced
100g kale, chopped
1 tbsp sage, finely chopped
2 eggs (Duck eggs are great for this)
Irish Seasalt & black pepper to season
Method
Put the potatoes in a pan of cold water with a little salt. Bring to the boil, cook for 3-4 mins until nearly tender, then drain and set aside.
 Heat the rapeseed oil in a large, non-stick frying pan. Cook the onion for 8 mins over a low heat until soft. Add the potatoes and sausage turn the heat up to medium and brown everything for 5 mins. Add the kale and wilt, then stir in the sage. Season with a little Irish seasalt and black pepper.
 Divide the hash between two bowls. Then add a little more oil to the pan and fry your eggs (always nice when cooked soft). Top the hash with the fried eggs and dig in!