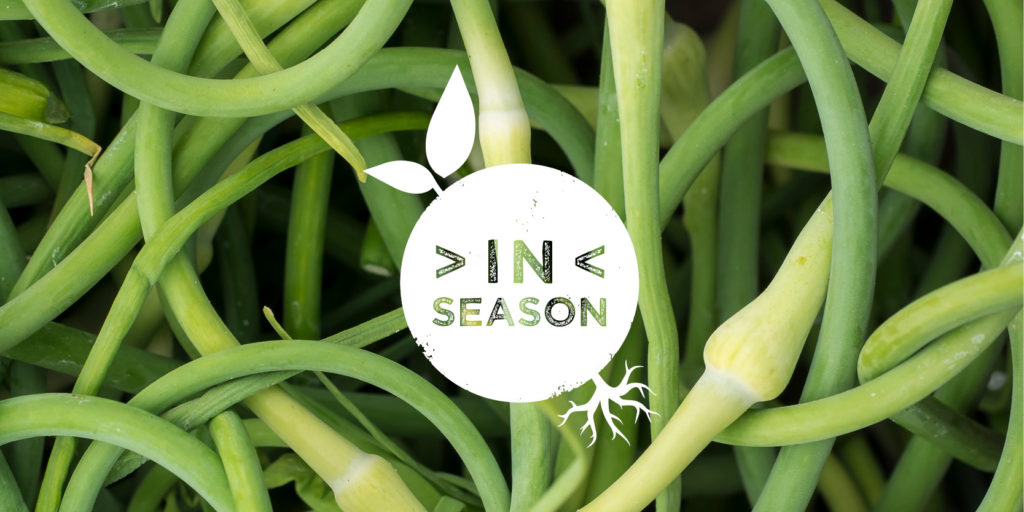 EAT IN SEASON MAY
CURLING & SMOOTH GARLIC SCAPES
Our star this month is the fantastic and very much underused Garlic Scapes!
Grown here in Ireland and are in Season for a very short time, weather permitting 1 month. We have teamed up with Peter & Marita of The Drummond House Estate in Baltray, County Louth whose passion and dedication to horticulture produces amazing produce.
Check them out here www.drummondhouse.ie
TRY HOME RECIPE
Roasted Garlic Scapes with Irish Sheep's Cheese
Ingredients
20 fresh garlic scapes (The Drummond House Estate, their scapes are also available in Dunnes Stores nationwide!)
3 tablespoons Irish Rapeseed Oil
1/2 cup of Irish Sheep's cheese, we use the award winning Rockfield from Velvet Cloud
Achill Seasalt and cracked black pepper, to taste
Method
Simple: wash and dry the scapes (gently in a tea towel), place on a roasting tray lined with parchment, drizzle over the rapeseed oil and
salt and pepper.
Get your clean hands stuck in and coat the scapes in the oil and seasoning.
Sprinkle the grated sheep's cheese over the top and place in a hot oven for 20 minutes.
These are perfect on their own or as part of dish with grilled Irish chicken or panfried wild fish
Enjoy!