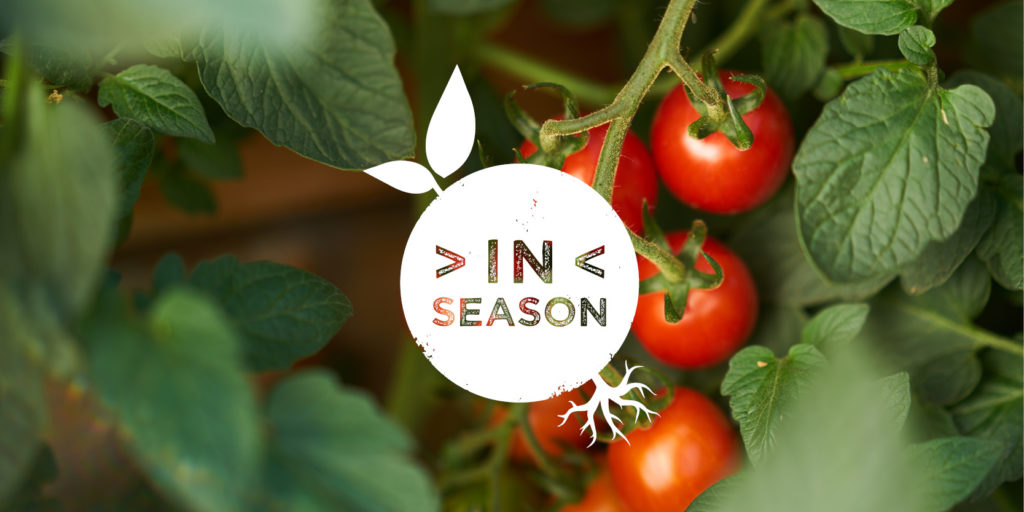 EAT IN SEASON JUNE
SWEET & TART IRISH TOMATO
The Irish tomato is popular for its good quality and flavour.
Today the tomato is one of the world's most popular fruits, though we eat it as a vegetable. Tomatoes are also a really good source of Vitamins A and C*.
Popular eaten raw, tomatoes can be fried, grilled, baked and used in soup, sauces and stews. Stuffed tomatoes, served raw or cooked, can be used as starters or as a main dish. They can also be bottled, used for jam and when ripe or still green, for chutney.
*sources: www.bestinseason.ie | www.bordbia.ie
TRY AT HOME RECIPE
BURRATA, CRUSHED TOMATOES & BRUSCHETTA
Ingredients – Serves 4
250g Irish Burrata (Toonsbridge is Exceptional)
100g Light Cream Cheese
Small Bunch Mint, Chopped, Plus a Few Leaves to Serve
Small Bunch Chives, Snipped
450g Ripe Cherry Irish Tomato use a Mixture of Red & Yellow
1 Tbsp White Wine Vinegar
1 Tsp Caster Sugar
1 Tbsp Irish Rapeseed Oil, Plus A Little Extra to Drizzle

For The Bruschetta
Thinly Sliced Real Sourdough Bread
2 Tbsp Irish Rapeseed Oil
2 Irish Garlic Cloves Crushed (Irish are Now In Season)
METHOD
In a large bowl mix the cream cheese, mint, chives and a pinch of Irish sea salt, then tear the Burrata and add. Spread over a large plate or a wide, shallow bowl, creating a dip in the center to hold the tomatoes. Chill until ready to serve.
In another bowl, roughly chop up the tomatoes until they are in small chunks and really juicy. Add the vinegar, sugar, rapeseed oil and a good pinch of salt. Mix together, then set aside.
Heat a griddle pan until smoking hot. Brush the bread slices with rapeseed oil and rub with the garlic cloves. Place on the hot griddle for 1-2 mins each side until nicely charred.
Put the squashed Irish tomatoes on top of the Burrata spread. Drizzle with extra oil and scatter with the remaining mint. Place in the center of the table and dip in with the charred bruschetta.
Enjoy!